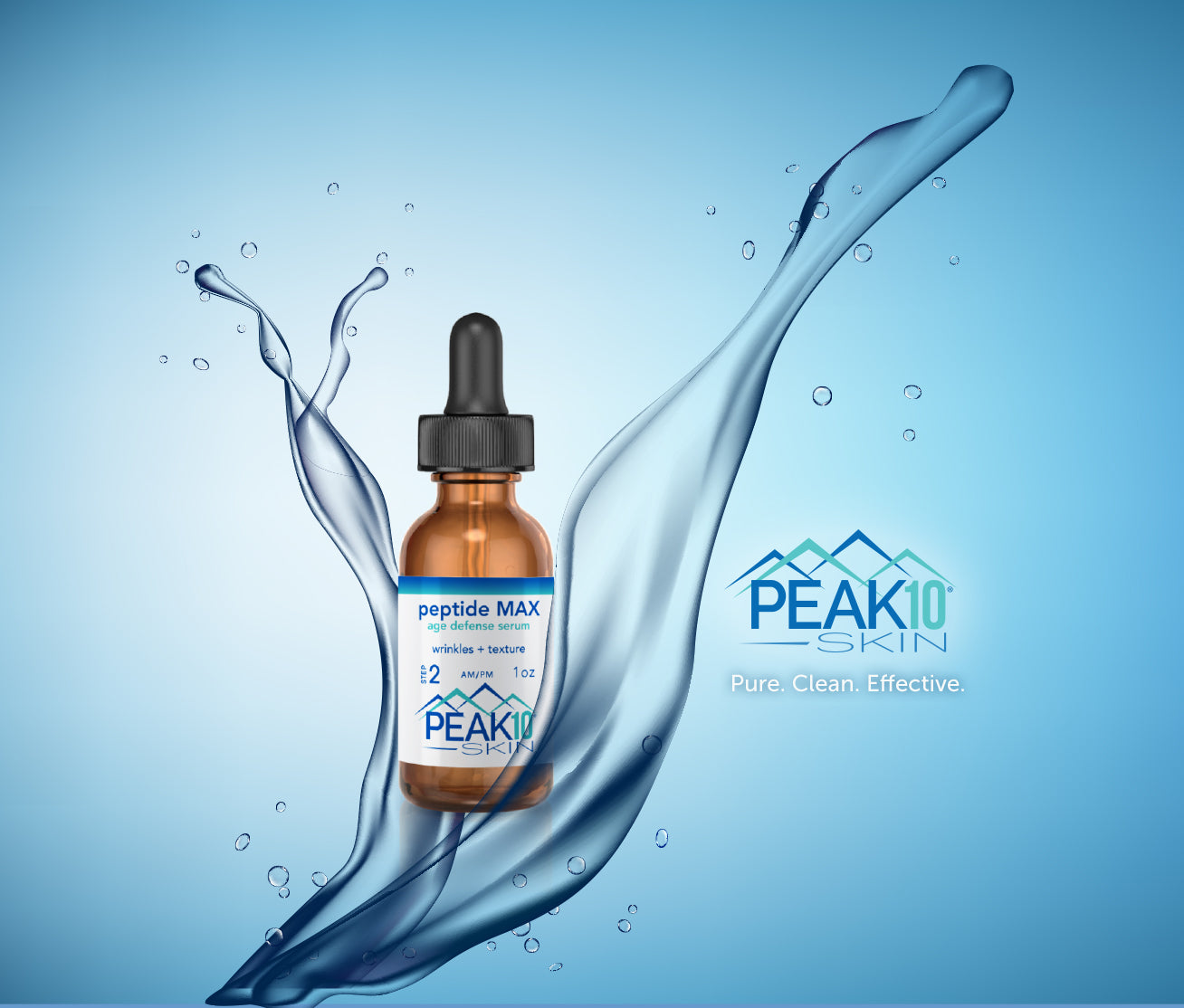 The Ultimate in Hydration and Protection
PEAK 10 SKIN® products for face & body use high levels of active ingredients proven to make a difference in the health and hydration of your skin.  Our products contain no parabens, no gluten, and are never tested on animals. 
Elevate your skin's health and appearance with PEAK 10 SKIN®.
Shop Now
Remember…skin care is self-care!
Our products provide effective hydration, nourishment, repair, exfoliation and protection that will elevate the health of your skin.  With PEAK 10 SKIN®, you will experience results that will be both seen and felt! 
Enjoy beautiful, healthy skin for the "peak of your life"!
Regular price
Sale price
$48.00 USD
Unit price
per
Regular price
Sale price
$90.00 USD
Unit price
per
Regular price
Sale price
$58.00 USD
Unit price
per
Reviews
Remarkable Products

HYDRO 1000+ is not your typical moisturizer. It really makes a difference in my skin! My face feels smoother and tighter and it glows!  The EYE WORK is amazing! Nothing I have ever used makes the crepe skin on my eye lids is softer and less puffy.  XTREME 100% Squalane has reduced the depth of my wrinkles like no other product I have ever used!  HYDRO D3 body lotion,  makes my elbows and hands soft without leaving them greasy.  I love all these products and really they are making an amazing difference in my skin. Thank you for creating such remarkable facial products!!!

Victoria D., Pittsburg, PA

more reviews

Just Amazing!

"AMAZING PRODUCTS THAT ARE BASED ON SCIENTIFIC RESEARCH.  Thank you for bringing these products to everyday women at a great price.  As a nurse, the science is important to me. "I looked for a product where hyaluronic serum was close to the top ingredient.  The only one I could find was HYDRO 1000+…it's pure hyaluronic acid.  Thank you for a great product that works. "I've tried many eye cream products.  Nothing compares to BLACK DIAMOND INTENSE EYE CREAM THANKS!!"

Derenda H., Nashville, TN

more reviews

Game Changer

Peptide Max is a game changer!Love, love, love Peptide Max. I use it every morning and evening. It's a must for softening the fine lines around my eyes and mouth! A little goes a long way! I recently had a facial and the esthetician told me how obvious it was that I take good care of my skin and she wouldn't change a thing on the products I am using.  Hydro 1000+ and Lipid Defense together = AMAZING! Half of a pump of Hydro 1000+ and Lipid Defense creates the most luxurious, silky smooth moisturizer ever! It glides right on my skin and absorbs quickly! My skin feels hydrated and super soft all day long!

Charlotte C., Franklin, TN

more reviews